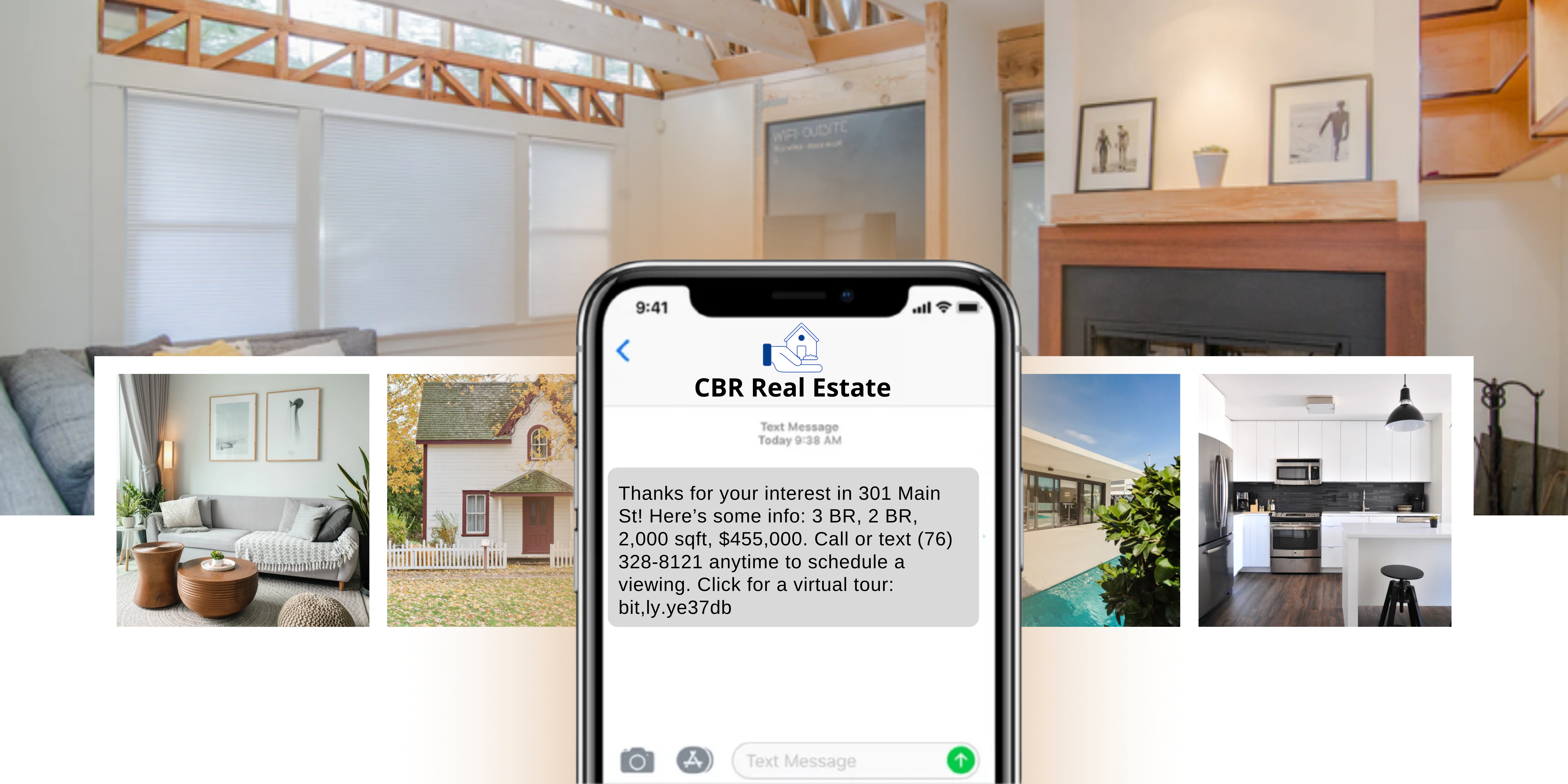 Cloud Messaging Services for Real Estate
Real estate is all about developing and managing connections, regardless of how much technology is available to automate and expedite procedures. Communication is the most important aspect of any successful relationship.
Texting provides a quick and efficient way for busy agents and brokers to:
Make contact with fresh leads.
Make arrangements for phone calls, viewings, and other meetings.
Send an SMS message to new Facebook leads automatically.
Customers can text a keyword to a phone number to get more information on a property.
The majority of realtors are not using a service that allows them to send bulk text messages. According to statistics, keeping up with technology is a difficulty for 48% of realtors. Getting started with mass texting gives you a competitive advantage.
You can use SMS services to:
Attract Interested Buyers: Make it simple for potential consumers to join your text list by using keywords, QR codes, and Sign-Up Forms.
Promote new listings:Texting is a wonderful method to schedule virtual tours and provide important information when new houses hit the market, keeping buyers and sellers informed and engaged on a platform they enjoy.

Manage Appointments: Remind prospective buyers of upcoming homes and viewing appointments.

Engage with prospects:Use 1:1 text messaging to measure buyer interest and receive and reply to questions promptly.
Recruit real estate agents: Recruit qualified realtors for your organization or branch in a timely and efficient manner.
Simplify Communications:Connect with a mobile workforce more effectively by providing updates, training programs, and time-sensitive information directly to their mobile devices.
Send property information to interested leads:If you have a unique keyword for each property, you may automatically deliver property information to prospects who opt-in to your SMS campaign. Here are some details you should include in your real estate texts:

Property address
Property size
Property price
Your contact information
Link to your website
Link to Google Maps
Use MMS to display property:Show off images or a video of the property by using MMS. Send an MMS:
With property images right when they text in
Taking a video walkthrough of the property
When renovations occur and you want to alert prospects
Get Data from prospects:To make it easier to follow up with leads who have opted into your SMS marketing, you can collect information from them. You can quickly import and export the data you collect using text messaging software like Cloud Messaging. Some data points you might want to get from your real estate prospects include:
First and last names
Email address
Budget
City

Create keyword for each property:You can send prospects information about the exact property they are interested in by creating unique keywords and using the same shortcode. If you're listing three properties in the same location, the keywords may be "H1," "H2," and "H3." If a prospect texts "H1" to your phone number, you can send them property-specific follow-ups.
Send follow-up text messages:You may keep your prospects engaged by sending them follow-up texts and information about the properties they're interested in using peer-to-peer texting.
You can also use SMS services for:
Generating leads with Realtor SMS Marketing:
Texting 1-on-1 With Leads, Customers, and Clients
You can always sign up for a 30-day risk-free trial to explore Cloud Messaging for your business. contact us to schedule product demo.To get this book for future reference click here.