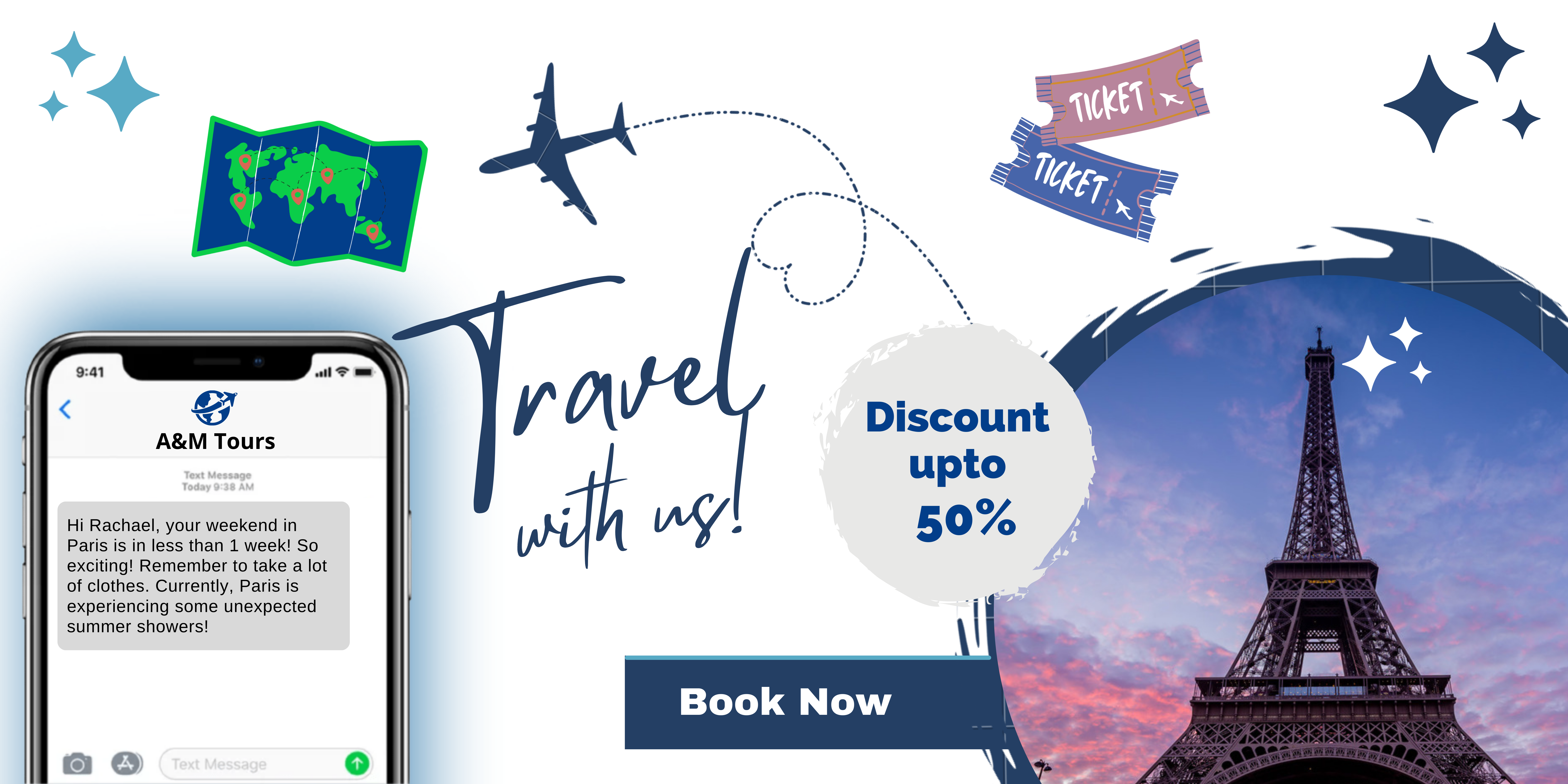 Cloud Messaging Service For Travel agencies
Over the last decade, the world's travel culture has undergone a total transformation. Tourism is one of the fastest expanding sectors today. People travel for a variety of reasons, including the desire to visit new places, work, or spend a weekend away from home. The number of travel agents has grown massively, and so is the level of competition in the business. Providing the finest deals while remaining relevant is a major problem for all of these businesses. To stay competitive, you must employ the most effective marketing strategies for your travel firm.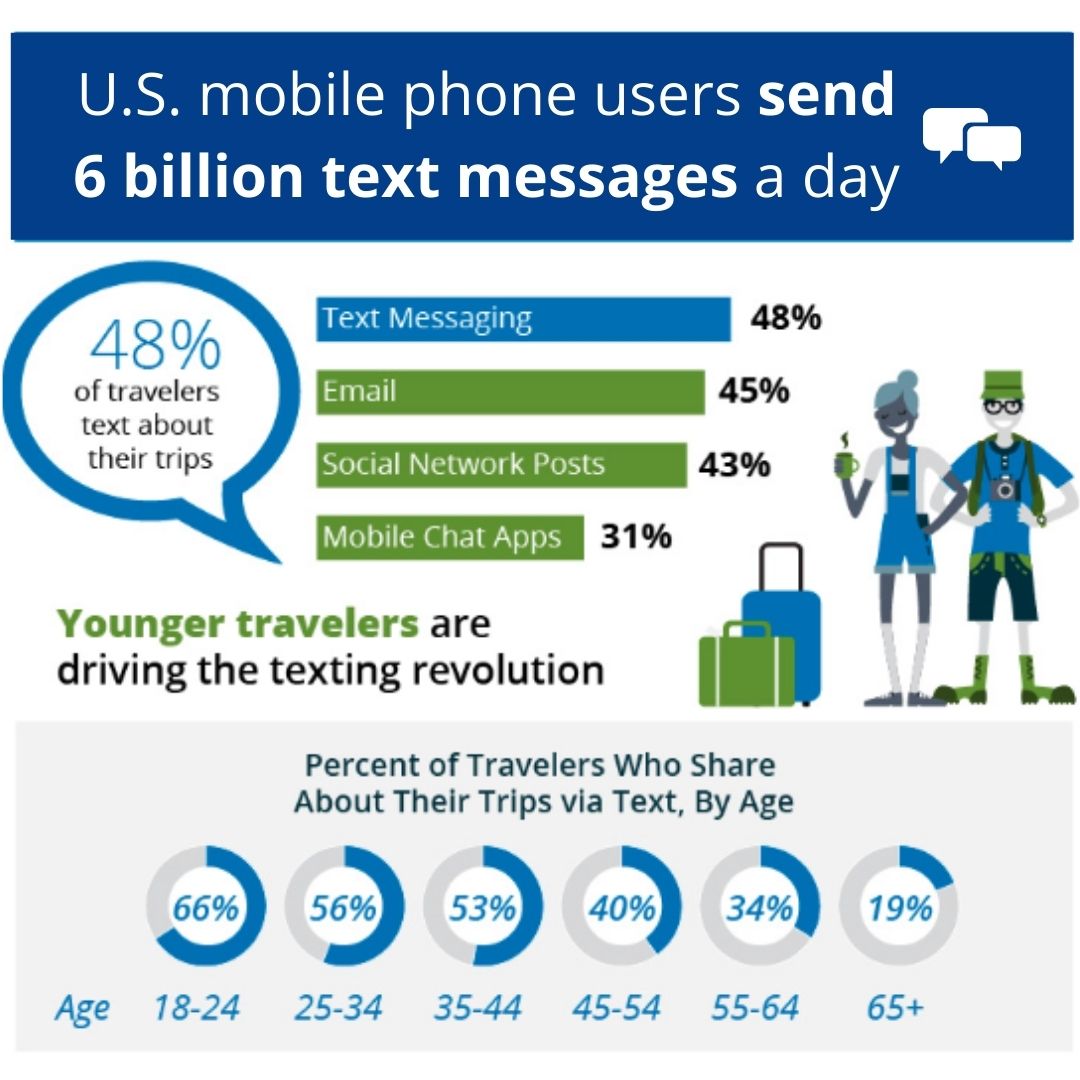 SMS marketing is a powerful tool that can be used in almost every industry. This is especially true for firms that sell non-essential items or convenience items. SMS services must be an important part of your marketing plan if you manage a travel business. With a 98 percent open rate, texting is currently the most used communication method.
Let's take a look into the ways how travel agencies are using SMS marketing for their business:
Mass Marketing:
Here's how you can use Mass Marketing for your travel agency:
Special Offers: Use text messaging to share exclusive offers with customers. You can share fantastic trip deals that are only accessible for a limited time. You can even provide your customers with a special discount code that is only valid for certain trips and bookings.
Brand Building: Customers are serious about traveling, therefore they will choose a travel service that they believe is trustworthy and professional. Brand building is closely related to the emotional attachment you're creating towards your company. Send them regular SMS updates about upcoming travel offers and packages.
Ask them to opt-in to receive travel updates: Eg. To receive information on Cruise tour packages, text CRUISE To 55556. When a lead texts the term (CRUISE) to your phone number, they will receive an automatic SMS with important information.
Target Marketing:
Rewards: Customers can also be rewarded for their loyalty. Rewards are a means for a company to express gratitude. If a consumer has booked a vacation via your agency, you should thank them. This form of personalized marketing establishes a unique link between you and your customer. Once they've made a reservation with you, consider giving them a special offer.
Tips: Consider offering your customer-helpful tips and advice about the destination as their next journey approaches. You may inform customers about upcoming weather or currency exchange rates. They will be very thankful.
Better Customer Relationship: Travel agencies wish customers on their journeys as well as on special events such as birthdays and anniversaries. This assists travel companies in gaining the trust of their customers, resulting in a long-term connection.
Feedback: Collecting feedback is an important element of any business that wants to be successful in the long run. Text message services are perfect for collecting feedback because of their high open rates. When a survey is sent via SMS, there is a high probability that the client will see it and complete it. You must pay attention to them to determine what has to be improved in your company. Ask them about their overall flight and booking experience, tell them to rate the service provider, and ask them if they have any suggestions.

Cloud Messaging

provides you with the most reliable route and ensures that each of your SMS reaches the target destination!
Direct Messaging:
Deliver great customer service so that the client chooses you for their next vacation. Here are a few instances of how you can communicate with your client by SMS and provide a good customer experience. While it's critical to stay in touch via SMS, it's also critical to send only relevant and focused messages that your customers will find beneficial.
Confirm Bookings and keep customers informed with their trip: Travel agencies utilize SMS communication to keep customers informed and give their consumers peace of mind. Traveling usually involves a lot of complications. It takes time and effort to ensure that everything is correctly organized. As a result, travel businesses offer SMS services to help users feel less stressed. It's quite beneficial to send a booking confirmation and keep the customer updated on their booking by SMS. The majority of booking confirmation messages are automated.
The most important details regarding the trip must be included in an SMS notice about the planned booking. People nowadays, for example, enjoy making reservations months and weeks in advance. As a result, SMS services serve as reminders. When a consumer makes reservation months in advance, there's a good possibility he or she may make a mistake with the specific date. As a result, sending them a message to remind them of an approaching trip might be incredibly helpful. This will enhance your brand's overall experience and encourage clients to utilize your services again.

QR code or mobile-friendly travel tickets: Another approach to give your consumers peace of mind is to send them a trackable and secure ticket by text message. The goal is to make the customer's booking experience more convenient and stress-free. This strategy is used by Alaska Airlines. fact, Alaska Airlines is successfully using SMS service and has shown great results. The company has the happiest customers in the US, so the SMS strategy can be a great customer support tool if used properly.

You can also send a QR Code through Cloud Messaging to send boarding tickets to your customers so that they do not have to wait in line.

While traveling: Once your customer has left for his trip, your role as a travel agent is to make sure he has a great time. You can reach out to him in advance with information that may be useful to him. For eg. Nearest car rentals, stay addresses, itinerary, etc.
We're here to can help you build your business and attract customers from all over the world!
Flight notification (cancellation, delay, or changes in flight)
Weather forecasts
Viewing of hotel locations via the map
Destination information/city guides
Room /hotel reservation status
Don't be scared by the number of cases we've covered. You don't have to get everything set up right away. To get started, send out a single broadcast SMS and see how your customers react.
You can use SMS tools such as Cloud Messaging to help you with this. I recommend Cloud Messaging too! It also provides you with a variety of SMS solutions (ranging from opt-ins to peer-to-peer) that you may employ whenever your marketing department is ready.
You can always sign up for a 30-day risk-free trial to explore Cloud Messaging for your business. contact us to schedule product demo.To get this book for future reference click here.